Crazy Ex-Girlfriend
Rebecca Bunch is a successful, driven, and possibly crazy young woman who impulsively gives up everything - her partnership at a prestigious law firm and her upscale apartment in Manhattan - in a desperate attempt to find love and happiness in that exotic hotbed of romance and adventure: suburban West Covina, California.
First Air Date:
2015-10-12
Creator:
Aline Brosh McKenna, Rachel Bloom
Production Companies:
Black Lamb, Sunnyside Entertainment, Warner Bros. Television, racheldoesstuff, CBS Television Studios
Season 0
2 Episodes
Air Date: 2019-04-05
Season 1
18 Episodes
Air Date: 2015-10-12
Rebecca Bunch has always been wound a little tightly. It's something that served her well as she has raced up the ladder at her corporate law firm in New York. It may also be why she has no life. So when Rebecca bumps into Josh Chan – her handsome, long-ago summer camp-sweetheart – she knows that it's a sign. A sign for her to quit her job, drop everything, and move across the country to West Covina, California – where, in a huge, definitely-unrelated coincidence, Josh just happens to live. With her impressive résumé, Rebecca quickly lands a new job at a local law firm, where she forms a unique bond with Paula, the head paralegal. Settling into her new Southern California surroundings, Rebecca eventually discovers her social media stalking has failed to uncover one important detail – Josh's girlfriend, Valencia.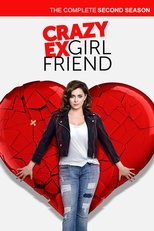 Season 2
13 Episodes
Air Date: 2016-10-21
Season 3
13 Episodes
Air Date: 2017-10-13
When last we left our intrepid and at least slightly nutty heroine, Rebecca Bunch, she was at her wedding, abandoned at the altar by her obsession, Josh Chan. In that moment, Rebecca found herself in a cliffhanger. Literally, because she, like, almost flung herself off a cliff. Instead, she found an unexpected well of strength inside herself and finally stood up to her abandoning father, flanked by her fierce girl squad. Phew. It was QUITE the wedding. So, what's a girl to do now? Why, get revenge of course. Because Josh Chan, love of her life? He's crossed over to the dark side -- ergo, he must pay, unless of course he sees the error of his ways and realizes he and Rebecca are meant to be.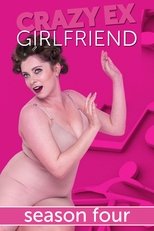 Season 4
17 Episodes
Air Date: 2018-10-12
Yeah, so pleading guilty to a federal offense because you wanted to take responsibility for every sketchy thing you may have done in your whole entire life is… maybe not the best idea? Still, you have to admire Rebecca Bunch for wanting to deal with the repercussions of the very long string of decisions - good, bad and alarmingly questionable - that she's made since she took flight from New York City and landed in West Covina. This year, Rebecca is in some ways like a baby chick that's about to tumble out of the nest, and in other ways she's that friend who is searching for enlightenment and kinda can't stop yammering about it. As always, Rebecca's actions have had unintended consequences for her West Covina friends – Nathaniel feels betrayed by her, Josh is taken aback by her, and Darryl is parenting her baby. Paula, Heather and Valencia remain staunchly by Rebecca's side but they are busy finding their own identities.
Reviews for
Crazy Ex-Girlfriend