Heroes
Common people discover that they have super powers. Their lives intertwine as a devastating event must be prevented.
First Air Date:
2006-09-25
Production Companies:
Tailwind Productions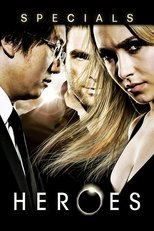 Season 0
55 Episodes
Air Date: 2006-07-21
Season 1
23 Episodes
Air Date: 2006-09-25
A genetics professor. A hospice nurse. A single mom. A street cop. A small town cheerleader. A tormented artist. A computer geek. From places as divergent as Tokyo, India, New York City and Odessa, Texas — they appear to be ordinary people. But they're beginning to find out they're not like everyone else. In fact, they're meant for something much more... Heroes tells the fascinating story of people discovering remarkable abilities — to transport through time and space, to hear another's thoughts, to be physically indestructible, to paint the future. Each must contend with their unique power. And as they struggle to make sense of what and why all this is happening, destiny will ultimately bring them together to change our world.
Season 2
11 Episodes
Air Date: 2007-09-24
Season 2 introduces new stories — and new heroes — following the apocalyptic showdown in New York City. Claire has moved with her family to Southern California in order to hide her indestructible abilities and there she encounters a young man with a secret of his own. Matt gains new authority in tracking down a murderous force stalking the Heroes, while Suresh uncovers a virus that could eradicate them all. As each sensational chapter unfolds, there is no resisting the extraordinary.
Season 3
25 Episodes
Air Date: 2008-09-22
In season 3, a shocking revelation suddenly divides our heroes and, as a cadre of villains is unleashed upon the world, its Heroes are called to their greatest quest yet.
Season 4
19 Episodes
Air Date: 2009-09-21
Season 4 begins with our heroes putting their lives back together. Claire finds that her biggest challenge is forgetting her old life and starting college. Hiro Nakamura goes back to his old life in Japan, but discovers that he has a terminal illness and sets out to fulfill his own personal bucket-list. Peter Petrelli returns to work as an ordinary New York City EMT. H.R.G. is adjusting to life as a single man, but when Mohinder Suresh offers H.R.G. compelling evidence of a new danger, it makes H.R.G. wonder if he should get back in the game. Nathan Petrelli returns to the Senate and begins to notice strange changes in himself. Matt Parkman returns to life as an ordinary family man, but finds something unfamiliar buried deep within his psyche. And a strange and dangerous carnival comprised of a traveling band of outsiders with powerful abilities suddenly poses a grave challenge.