Queer As Folk
Brash humor and genuine emotion make up this original series revolving around the lives, loves, ambitions, careers and friendships of a group of gay men and women living on Liberty Avenue in contemporary Pittsburgh, PA. The show offers an unapologetic look at modern, urban gay and lesbian lives while addressing the most critical health and political issues affecting the community. Sometimes racy, sometimes sensitive and always straight to the heart.
Creator:
Daniel Lipman, Ron Cowen
Fist Air Date:
2000-12-03
Production Companies:
Showtime Networks, Cowlip Productions, Tony Jonas Productions
Season 0
17 Episodes
Air Date: 2005-08-07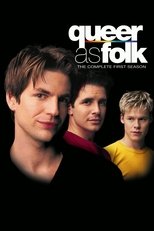 Season 1
22 Episodes
Air Date: 2000-12-03
Season 2
20 Episodes
Air Date: 2002-01-06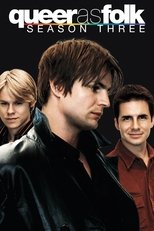 Season 3
14 Episodes
Air Date: 2003-03-02
Season three picks up where season two left off. Brian adjusts to his new life while Michael and Ben face the complexities of an HIV positive/negative relationship. Ted and Emmett discover that best friends can become lovers, but even with an extensive history between them, they've still got a lot to discover about each other. Melanie and Lindsay make a major decision that will impact the shape of their family.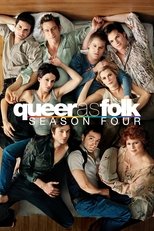 Season 4
14 Episodes
Air Date: 2004-04-18
The fourth season finds Brian, now broke and unemployed, attempting to rebuild his life. Michael returns to Pittsburgh to fight for custody of Hunter with Ben. Justin joins a vigilante group where he discovers his buried anger. Also, as Ted progresses into his sobriety, Emmett deals with the fallout from their breakup. And Melanie and Lindsay await the birth of their second child.
Season 5
13 Episodes
Air Date: 2005-05-22
The fifth season begins with Justin living in Hollywood indefinitely, causing Brian to turn his attention to a risky real estate investment, Babylon. His club-going lifestyle becomes an issue with Michael and Ben, who are considering a life in the suburbs. Melanie and Lindsay surprise everyone with the news of their split, and enter into an intense three-way battle with Michael over the custody of their daughter. And Ted fights aging with an extreme makeover.
Reviews for
Queer As Folk