Person of Interest
Person of Interest follows former CIA paramilitary operative, John Reese, who is presumed dead and teams up with reclusive billionaire Finch to prevent violent crimes in New York City by initiating their own type of justice. With the special training that Reese has had in Covert Operations and Finch's genius software inventing mind, the two are a perfect match for the job that they have to complete. With the help of surveillance equipment, they work "outside the law" and get the right criminal behind bars.
First Air Date:
2011-09-22
Production Companies:
CBS Productions
Season 1
23 Episodes
Air Date: 2011-09-22
A supercomputer developed by reclusive billionaire and software genius Harold Finch analyzes data patterns in surveillance for the U.S. government to identify impending acts of terrorism. But the computer, known only as "The Machine", can also identify ordinary people who are about to be involved in violent crimes. Can those crimes be stopped before they take place? Secretly tapping into The Machine, Finch and ex-CIA agent John Reese use vigilante tactics and state-of-the-art technology to identify the soon-to-be victims and prevent the crimes from occuring. Meanwhile, two NYPD detectives Joss Carter and Lionel Fusco are drawn into the cases and the mystery surrounding the two covert crime fighters.
Season 2
22 Episodes
Air Date: 2012-09-27
The Machine identifies another gripping season's worth of potential crimes that must be stopped. Adversaries from Reese's undercover past and Finch's government work threaten the team's crime-fighting mission and anonymity. Meanwhile, Detectives Carter and Fusco face down FBI probes and the dangerous tentacles of the police conspiracy known as "HR".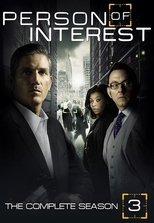 Season 3
23 Episodes
Air Date: 2013-09-24
The team suffers a devastating loss and confront staggering challenges. Adapting to the next evolution of The Machine, now completely self-governed and hidden from all, Finch and Reese team with rogue agent Sameen Shaw to save lives and seek justice, but their missions now threaten to tear them apart. Joss Carter and Lionel Fusco finally unravel the criminal police conspiracy "HR" - but at a tragic cost. And former cyber-enemy — and now highly tuned confederate of The Machine — Root becomes an unpredictable ally when the team learns a second surveillance apparatus to rival The Machine is on the verge of activation.
Season 4
22 Episodes
Air Date: 2014-09-23
Although they've saved countless lives thanks to The Machine's omniscience, John Reese and Harold Finch, along with lethal operative Sameen Shaw and unpredictable cyber-hacker Root now face an uncertain future. With a second machine — Samaritan — now online, the elusive team are now targets themselves, hiding in plain sight. The only thing more frightening than the ruthless Decima organization calling the shots is leaving those decisions up to an untested Machine. Facing a dangerous tomorrow, the POI team must find a way to outsmart Samaritan, an all-seeing, all-powerful artificial intelligence that's self-governing, continually evolving and growing stronger every day.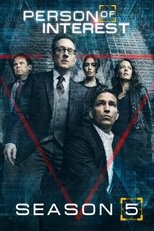 Season 5
13 Episodes
Air Date: 2016-05-03
For years, the Person of Interest team have been protected by The Machine, but as worlds collided and a rival AI known as Samaritan finally cornered The Machine inside the nation's power grid, it was the POI team's turn to protect Finch's creation. In season five, the cold war is over. The world around us might look the same, but something has drastically changed. Samaritan's lethal "correction" has initiated its control. Finch's Machine is essentially dead. Shaw is still missing. And the team is once again hiding in plain sight. But with Samaritan's invisible grip tightening everywhere, will Finch be able to rebuild and resurrect The Machine? And if he does, will it be the same Machine when it comes back online?
Reviews for
Person of Interest