Starting From Now
"Starting From Now" is a lesbian web series that explores the lives of four inner-Sydney women as they struggle to work out who they are, find a place where they belong, and maybe even find someone to love along the way.
After building an international viral following across the first three seasons and reaching 20 million views in less than two years on YouTube, seasons 4 and 5 were acquired for broadcast television and screened on SBS2 in March, 2016.
First Air Date:
2014-03-11
Production Companies:
Spectrum Films, Common Language Films
Season 1
6 Episodes
Air Date: 2014-03-11
Steph has landed what appears to be the perfect job. She arrives in Sydney full of hope and expectation, determined that a fresh start is just what she needs. But when she falls for Darcy, her friend's girlfriend, life gets complicated.
Season 2
6 Episodes
Air Date: 2014-06-03
Darcy and Kristen try to make a broken relationship work while Steph watches on helplessly and Emily nurses a broken heart.
Season 3
6 Episodes
Air Date: 2014-11-18
Darcy and Steph find the reality of their situation difficult to deal with, while Kristen does everything she can to numb the pain, including reaching out to Emily, a very reluctant ally.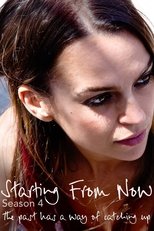 Season 4
6 Episodes
Air Date: 2016-03-01
Season 4 picks up three months after Season 3 and sees Darcy return, reluctant to talk about where she's been and determined to reunite with Steph. Having spent much of Darcy's absence questioning their relationship and her unresolved feelings for Emily, Steph is in no hurry to forgive. Even Kristen appears to have moved on, juggling her drug addiction and penchant for anonymous sex with a new job in family law.
Season 5
6 Episodes
Air Date: 2016-07-05
Darcy is living with Steph and her flatmate Chris. She is clearly struggling to come to terms with her past but refuses to admit it. Steph's support of Darcy is unwavering but has put any chance of a future with Emily in jeopardy. Without divulging Darcy's secret, Steph tries, unsuccessfully, to convince Emily that her and Darcy aren't back together. Meanwhile, Kristen and Rachel begin an awkward courtship. Having not been in a relationship since her ex left, Rachel is reluctant to commit. Kristen doesn't deal with rejection well and soon falls into old habits.
Reviews for
Starting From Now