Supergirl
Twenty-four-year-old Kara Zor-El, who was taken in by the Danvers family when she was 13 after being sent away from Krypton, must learn to embrace her powers after previously hiding them. The Danvers teach her to be careful with her powers, until she has to reveal them during an unexpected disaster, setting her on her journey of heroism.
First Air Date:
2015-10-26
Creator:
Greg Berlanti, Ali Adler, Andrew Kreisberg
Production Companies:
DC Entertainment, Berlanti Productions, Warner Bros. Television
Season 1
20 Episodes
Air Date: 2015-10-26
Season 2
22 Episodes
Air Date: 2016-10-10
Season 3
23 Episodes
Air Date: 2017-10-09
Season 4
22 Episodes
Air Date: 2018-10-14
In season four, Supergirl is facing a bigger threat than she's ever faced before – a new wave of anti-alien sentiment, spreading across National City that's fomented by Agent Liberty. As Kara mentors a new reporter at CatCo, Nia Nal, and tries to use the power of the press to shine a light on the issues threatening to tear the city apart, Supergirl takes to the skies to battle the many villains who rise up in this era of divisiveness.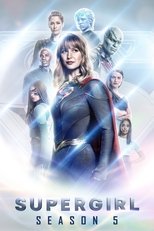 Season 5
19 Episodes
Air Date: 2019-10-05