Buffy the Vampire Slayer
Into every generation a slayer is born: one girl in all the world, a chosen one. She alone will wield the strength and skill to fight the vampires, demons, and the forces of darkness; to stop the spread of their evil and the swell of their number. She is the Slayer.
First Air Date:
1997-03-10
Production Companies:
Mutant Enemy Productions, Kuzui Enterprises, Sandollar Productions, 20th Century Fox Television
Season 0
2 Episodes
Air Date: 1992-07-31
Season 1
12 Episodes
Air Date: 1997-03-10
Season 2
22 Episodes
Air Date: 1997-09-15
New vampires Spike and Drusilla come to town along with the new slayer, Kendra Young, who was activated as a result of Buffy's brief death in the season one finale. Xander becomes involved with Cordelia, while Willow becomes involved with witchcraft and Daniel "Oz" Osbourne becomes a werewolf after being bitten by a young cousin who just happens to be a werewolf. Buffy and the vampire Angel develop a relationship over the course of the season, but Angel's dark past as the evil and sadistic Angelus threatens to destroy Buffy and the world.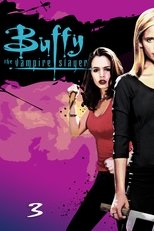 Season 3
22 Episodes
Air Date: 1998-09-29
Season 4
22 Episodes
Air Date: 1999-10-05
Season 5
22 Episodes
Air Date: 2000-09-26
Season 6
22 Episodes
Air Date: 2001-10-02
Season 7
22 Episodes
Air Date: 2002-09-24
Reviews for
Buffy the Vampire Slayer